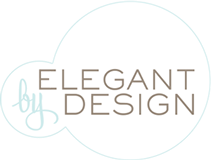 I remember the first time I played with flowers... and never in a million years would have thought that I could end up making that my career. I am so fortunate to have such a creative outlet that connects me to so many on such a personal level and allows me to constantly be inspired not only by nature, but also by the different personalities I encounter.
Artistically approached, creatively inclined, and with a very relaxed atmosphere, I try to make our appointment time the most amazing experience for you. Planning an event can be stressful, but conversing about flowers should not. I have to say, it is really tough to have a bad day when you're surrounded by such beauty!
I look forward to working with you.
Established in 1996, Elegant by Design is a family owned and operated business, specializing in creating "Once in a Lifetime Events" which reflects our client's individuality. Uniquely designed and tailored to you, we will bring your ideas to life, whether it is an intimate a affair of close family and friends, or an extravagant celebration. Our beautifully designed custom floralscapes are the perfect finishing touch for your event.
We are committed to make the most important day of your life, exceed your expectations. We take every aspect and every detail into account to create a style and look of your own.
Let us help you get started, contact us to schedule a complimentary consultation.